RAM MOORTHY
CONSULTANT EAR, NOSE & THROAT (ENT) SURGEON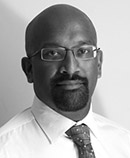 Mr Moorthy is a Consultant ENT Surgeon based at Wexham Park Hospital, which is part of Frimley Health NHS Foundation Trust. He is an Honorary Consultant Head & Neck Surgeon at Royal Berkshire Hospital.
His private practice is based at the Spire Thames Valley Hospital, Wexham, The Princess Margaret Hospital, Windsor and the Bridge Clinic, Maidenhead. Mr Moorthy also has a central London practice at the new state of the art facility at The London ENT & Balance Centre, 41 Welbeck St, London W1, part of the Princess Grace Hospital.
He offers a full general adult and children's (paediatric) ENT service with supra-specialist training in head & neck surgery, including thyroid and parathyroid surgery. Mr Moorthy is the only surgeon locally offering coblator intracapsular tonsillectomy. At Mr Moorthy's Bridge Clinic location he is also able to undertake Transnasal Oesophagoscopy in the outpatient clinic to evaluate problems with swallowing.
He has full registration and a licence to practice from the General Medical Council (GMC). He is also on the Specialist Register for Otolaryngology (ENT Surgery).
Registration number 4639222
He is a member of the following professional organisations:
Royal College of Surgeons of England
British Medical Association
Royal Society of Medicine
ENT-UK
British Association of Head & Neck Oncology
British Association of Endocrine and Thyroid Surgeons