COVID-19 Update
During this crisis it is vital that both patients and healthcare staff are key safe. Therefore Mr Moorthy is able to offer telephone or secure video consultation, which allows safe treatment and management of most common ENT problems, without the need to travel to a hospital or clinic. If a face to face consultation is required this will be fully discussed and a joint decision made as to when this can be safely undertaken. Please contact the office for further information or to arrange a consultation.
Tel: 01753 206182
email: secretary@rammoorthy.co.uk
RAM MOORTHY
CONSULTANT EAR, NOSE & THROAT (ENT) SURGEON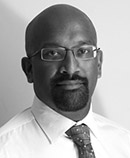 Mr Moorthy is a Consultant ENT Surgeon based at Wexham Park Hospital, which is part of Frimley Health NHS Foundation Trust. He is an Honorary Consultant Head & Neck Surgeon at Royal Berkshire Hospital.
His private practice is based at the Spire Thames Valley Hospital, Wexham, The Princess Margaret Hospital, Windsor and the Bridge Clinic, Maidenhead. Mr Moorthy also has a central London practice at the new state of the art facility at The London ENT & Balance Centre, 41 Welbeck St, London W1, part of the Princess Grace Hospital.
Mr Moorthy is a high volume thyroid and parathyroid surgery utilising modern techniques to deliver the best possible results to patients. He also specialises in parotid surgery and for many patients can utilise and approach hiding the scar behind the ear. He offers a full general adult and children's (paediatric) ENT service. Mr Moorthy was the first surgeon locally offering coblator intracapsular tonsillectomy. At Mr Moorthy's Bridge Clinic location he is also able to undertake Transnasal Oesophagoscopy in the outpatient clinic to evaluate problems with swallowing.
He has full registration and a licence to practice from the General Medical Council (GMC). He is also on the Specialist Register for Otolaryngology (ENT Surgery).
Registration number 4639222
He is a member of the following professional organisations:
Royal College of Surgeons of England
British Medical Association
Royal Society of Medicine
ENT-UK
British Association of Head & Neck Oncology
British Association of Endocrine and Thyroid Surgeons