Profile
Ram Moorthy was born in London and educated at Dulwich College. He attended the United Medical and Dental Schools of Guy's & St Thomas' Hospitals, London and qualified in 1999. During his time at medical school he embarked upon a year of further study and was awarded a B.Sc in Clinical Anatomy in 1996 and his supervisor was the eminent surgeon and anatomist Professor Harold Ellis.
His basic surgical training took place on the South Coast, involving posts in ENT, oral & maxillofacial surgery and neurosurgery, which provided an excellent base to pursue a career in ENT surgery. He was awarded MRCS(Eng) in 2002 and undertook further ENT training at Charing Cross Hospital, London.
He started higher surgical training in ENT in 2003, initially in the West Midlands before transferring to the South East Thames region in 2006. He also spent a year training in tertiary level paediatrics at the Evelina Children's Hospital and Great Ormond Street Hospital, London.
He was awarded FRCS(ORL-HNS) in 2007.
Towards the end of his general ENT training he decided to pursue supra-specialist training in head & neck surgery, initially at the Head & Neck Unit at Guys' Hospital and then successfully obtained a prestigious National Interface Fellowship in head & neck surgical oncology based at the Queen Elizabeth Hospital, Birmingham.
Following completion of his fellowship he started as a Consultant ENT surgeon at Wexham Park Hospital in April 2011.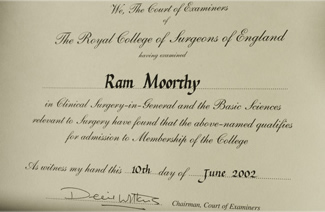 Mr Moorthy is a high volume thyroid and parathyroid surgeon. He is the lead parathyroid surgeon for Berkshire.
Mr Moorthy specialises in parotid surgery and for many patients can utilise an approach hiding the scar behind the ear.
Mr Moorthy undertakes a full general ENT practice for adult and children at Wexham Park Hospital with an emphasis on salivary gland, thyroid and swallowing disorders.
Mr Moorthy was the first surgeon in the local area offering coblator surgery for adenoid and tonsil surgery both on the NHS and privately
He is Deputy Chief of Service for Specialty Surgery at Frimley Health NHS Foundation Trust.
He is a core member of both the thyroid and the head & neck cancer team, which is based at Mount Vernon and Northwick Park Hospitals.
He is an Honorary Consultant Head & Neck Surgeon at Royal Berkshire Hospital, Reading undertaking Parathyroid, Thyroid and head & neck surgery. He is also a core member of the head and neck cancer team based at Royal Berkshire Hospital and Oxford Radcliffe Hospital.
He is an Executive Committee member of the British Association of Endocrine and Thyroid Surgeons.
He is the Regional Specialty Advisor for ENT and regional representative to the Council of ENT-UK.
Mr Moorthy has a long-standing interest in medical education and training.
He is the Training Programme Director for ENT in Thames Valley. and Chair of the National Association of Programme Directors in ENT.
He is the past Clinical Tutor at Wexham Park Hospital responsible for all postgraduate medical training on the siteHe is a past local Foundation Training Programme Director and an Associate Foundation School Director at the Oxford Foundation School with an emphasis on ensuring the quality of the Foundation Programme, which is a 2 year programme undertaken by all newly qualified doctors.
He has been an honorary clinical lecturer at the University of Birmingham, M.Sc Supervisor for the University of Edinburgh and a faculty member on a number of courses for both junior doctors and medical students.
He has co-authored two chapters in the 5th edition of Stell & Maran's Textbook of Head & Neck Surgery and Oncology. He has undertaken and participated in a number of studies, which have been published and presented at national and international meetings.
Mr Moorthy has also held a number of high profile positions at the British Medical Association including Chairman of the UK Junior Doctors Committee (2007-2008). He was the Deputy Chairman of the Board of Science (2009-2016)